Building a Repertoire

In my opinion Building a Repertoire is important to further your playing. especially coming in to the intermediate stage.
You will need to get over the initial difficulties of holding the fiddle and bow and knowing the notes. You will also need to have grasped the basic format of the tune types and play a small amount of tunes through off by heart. If a small amount of your practice time is spent on technique you can then work on building your repertoire . As ever, much time should be spent listening to other players and to recordings.
Repertoire list: Doing out a repertoire list will allow you keep an eye on what and how much you know. Keeping an eye on your repertoire especially when new to the music is a good idea in my opinion and having a structured approach will help. You will get to the stage where you can do away with the list. If you want to build a repertoire quickly it is better to have a goal in mind. A small one to start, even just 2 tunes that go together(same tune type). If you don't have the tune titles, just write out the notes of the first few bars. Try to find someone who'll play these with you or a local session. This should help your playing immensely.
Most Irish musicians and won't know how many tunes they know. Many session players will have so many tunes they can remember e.g. start themselves, but they will have many more they can play along with once they get the start! Tunes are learned or absorbed from sessions, recordings or directly from another musician. It important to note that Irish music is played off by heart and someone having a list to refer to in a session would be highly unusual! This might happen at beginner session or 'slow' session where the goal is to improve rather than a spontaneous musical gathering as such.
Sets
Sets: sets (tunes in groups, usually 2 or 3) seem to have always been popular in Irish music. This seems to have been done since Irish music has been recorded and played. Playing tunes in sets is more enjoyable, makes it easier to remember turns (changes to the next tune) and adds a sense of community when playing in groups or sessions(an Irish music gathering). Sets often change key but this is not always the case.
There are many favoured sets by groups of musicians when playing for dancers in a ceili band. Reels are the most popular are the most popular type of tunes played in sets followed by jigs. The popularity of sets will vary from location to location. People may also be drawn to a famous local musician or composer in their locality. Write a list of the tunes you know and try various combinations. Sets will need to be the same type of tune, if not this will need to be organised with the musicians who are playing with you!
Joe Burke & Sean McGuire – LP cover
Many solo players would record sets on their albums. Usually lots of sets of reels with some jigs and hornpipes. Two of the players to do this was Joe Burke and Sean McGuire(on an album of the same name). Michael Coleman did also in the 1920's, recording about 70 sides in total. Coleman not only had a huge influence on Irish music itself but being one of the 1st irish fiddlers to record he made popular many sets of tunes which are still played today. These would include Bonnie Kate and Jenny's Chickens and Crowleys 1 & 2.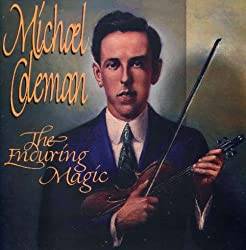 'The Enduring Magic' – Michael Coleman.
The Tulla Ceile band(Old Photo)
Ceile Bands:  Céile Bands(a band playing irish music for dancing) are a great source of tunes played in sets. There are many favoured sets by groups of musicians when playing for dancers in a ceili band. Reels are the most popular are the most popular type of tunes played in sets followed by jigs. Listen for recordings of The Tulla, The Kilfenora and The Gallowglass céili bands.

Some sets are so intertwined it is hard to imagine them being played in other sets, such as Cooleys & The Wise Maid or The Home Ruler/Kitty's Wedding.
List of tune sets: (including several recorded by Michael Coleman)
The Butterfly/The Kid on the Mountain. (recorded by the Bothy Band – a superb 1970's Irish Folk band.)
The Ballydesmond 1 & 2 (polkas)
The Boys of Bluehill / Off to California
Bonnie Kate / Jennys Chickens( recorded by Michael Coleman, James Kelly, Brian Conway & many more)
Colonel Rogers / The Happy Days of Youth (recorded John McKenna, Frankie Gavin, on Flute)
Maud Millar / Molloys Favourite (recorded by John Whelan, Joe Burke)
The Plains of Boyle / The Rights of Man
The Home Ruler / Kitty's Wedding (recorded by Noel Hill and Tony Linnane)
The Tarbolton / The Longford Collector / The Sailors Bonnet(also known as the Tarbolton selection made popular by Michael Coleman)
Cooleys / The Wise Maid (recorded by Joe Cooley)
The Jig of Slurs / The Athol Highlanders(A Scottish jig)
The Copperplate 1 / The Copperplate 2(Also known as The Old & The New Copperplate)
The Killarney Wonder / The Finnea Lassies(recorded by Michael Coleman, Kevin Burke)
The Concertina reel / The Earls chair(recorded by Patrick street)
The Jug of Punch / Eddie Kelly's (recorded by Kathleen Collins, Paddy Glackin on 'Hidden Ground')
Farrell O Gara / Trim the Velvet( recorded by Joe Burke and Sean McGuire)
The Turnpike Gate / The Killavil Fancy(recorded by Roger Sherlock, Frankie Gavin)
The Duke of Leinster / The Duke of Leinsters Wife (recorded by James Kelly)
The Lads of Laois / The 1st Month of Summer (recorded by Andy McGann, Cathal Hayden)
The Banks of the Llen / The Scartaglen reel(The New Post Office), (recorded on 'Irlande' with Frankie Gavin, Aidan Coffey and Arty McGlynn)
Andy McGanns / The Humours of Scariff (recorded by Andy McGann, Sean McGuire)
The Salamanca / The Banshee / The Sailors Bonnet (recorded by the Bothy Band)
Paddy Fahy(s) / The Cliffs of Moher (recorded by Kevin Burke, Martin Byrnes, Vincent Griffin)
The Pigeon on the Gate / Miss Monaghan (recorded by Michael Coleman, Josephine Keegan, John Vesey)
Jackie Colemans / (Charlie) Mulvihills
The Morning Dew / The Woman of the House (recorded by Michael Coleman, Willie Clancy)
The Stage / The Western (recorded by Michael Coleman, James Kelly)
The Skylark / Roaring Mary (recorded by Joe Cooley)
Cul Aodh jig (The Coolea jig) / The Blue Angel (recorded by Buttons and Bows, Sean McGuire quartet)
Caisleáin na nOr / The Humours of Tullycrine(Bobby Casey's)This tune was composed by Junior Crehan(recorded by Kevin Burke)
Doctor Gilbert's Fancy / The Queen of May( recorded by Michael Coleman, Andy McGann, An Fhidil Sraith 1, John Vesey.)
The Glen Cottage polkas (recorded on An Fidil Straith II)
Planxty set – Planxty Irwin / Fanny Power (composed by Turlough O Carolan)